Rusty Warriors 'Rusty Warriors' (EP)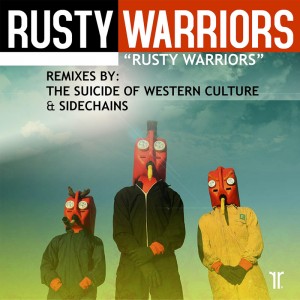 IRREGULAR06  
This time, I'm talking to you very seriously. No longer need a wolf to bring down the houses as in The Three Little Pigs story, this new RUSTY WARRIORS' single and its remixes have all the dressings to do the honors.
A triple storm is upon us. SIDECHAINS, THE SUICIDE OF WESTERN CULTURE and for sure RUSTY WARRIORS themselves. A non-stop of electro-house, rockin' beats, frenzied neo disco, dirty and industrial IDM, acid-techno stabs and an overdose of synths. No jokes with those crescendo trancy arpeggios in the original track, a reminiscent maybe of the best nineties. Not even in La Tomatina (Buñol, Spain) were there such of 'red' intense moments.
Enjoy all these new singles now. Do not forget the video clips, the new one will not leave indifferent. Later, we will have enough time for the summit of a 1st album to be released in the first half of 2012. Stay tuned! Rusty Warriors will save your night!