Lasers are remixed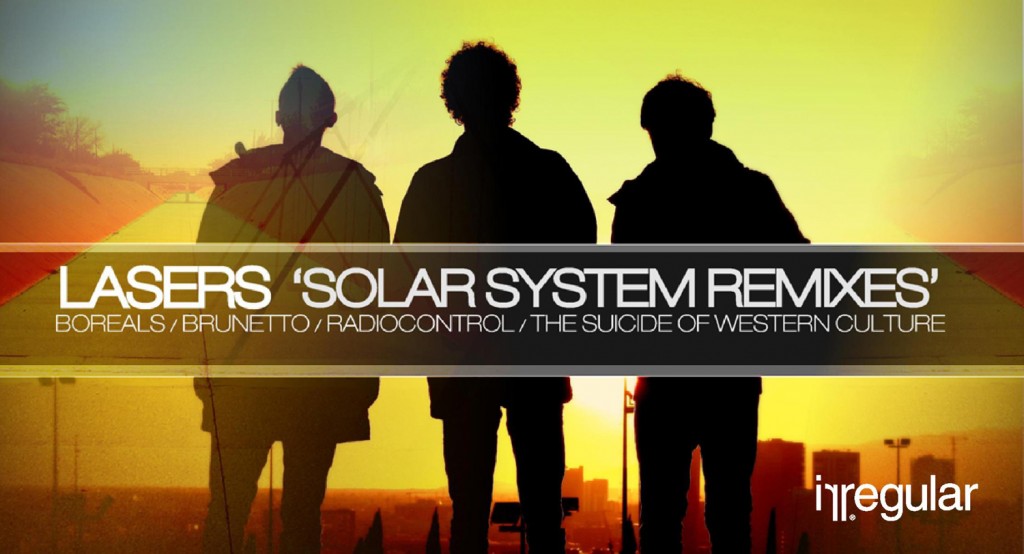 What you were waiting for… A brand new release with the trio Lasers and their successful album debut "Juno" (irregularCD07) involved. Remember, voted and nominated in Spain by the UFI for the best album of indie-electronic music. This pack includes an interesting bunch of remixes. The main track chosen to be reinvented is the 1st single extracted from that album; this is "Solar System".
The first round is for The Suicide Of Western Culture. Theirs is a breathless cut. Mechanical, scuzzy and beautiful as always. Melodies and voices humanizing their particular pedals and keyboards universe into a delightful song. Second is for the chemical of textures and beat-maker Brunetto. Yes! He's back and as a gossip is spreading, is preparing his 4th album for 2013. His is a black-and-white tunnel of electro-beats, atmospheric samples and "drama" subs. Melting a floating musicality with guttural bass lines. Got it?
The remix most imbued in a sweet-natured danciness is Radiocontrol one. Resulting in a union of house-pop, dance and summer-breeze. Main melody is very organic and highly contagious, keep you footing from the very first second.
The pack is completed by a suitable bonus track. The promising Boreals remixing the song "Awake" also included on "Juno". Theirs, a mind-blowingly beautiful music well fed and settled in less than 3 minutes of time. Shimmering keyboards and vocals very respectful to the original version, but in a slowed tempo.
Highly recommend territories to explore.