Fernando Lagreca 'Childhood Is All We Have'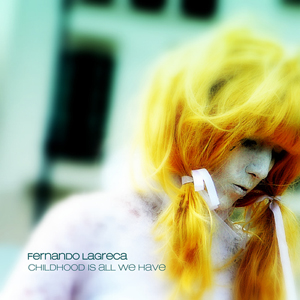 IRREGULARCD08

[+INFO]    

Fernando Lagreca is one of those persons who kept an integrity and personality for an entire life… his music too. Year after year this Uruguayan of heart (it is based since 2002 in Barcelona, Spain) has managed to capture album by album, his delightful ability blending synths, organic melodies and warmest vocals.
The definitive dive maybe. His compositions are a wide palette of tempting sounds. To name a few characteristics: sharpness in the melodies, warbled beauty, modernity vs classic… Every song is a feeling. This new album is full of these, up to 9 cuts. All blended into something quite unique.
Some friendly advice, let yourself go in a row with the tracklist. "Swimm Love Paradise", "Stood by the Gate at the Foot of a Garden" or "Dream and Go" for example, beautifully intense electronic trips. Difficult to know when to stop. Casiotones, keyboards, amplifiers or guitars, as in that movie "Young Sherlock Holmes" (1985) seems to get legs, hands, ears and smiles, and then they start to play some nostalgic but always optimistic music. Upbeat in tracks like "Driving Myself Alone", numb synth-wave in "Wonkyvideo" or soothing space IDM in "Introspective Space". Fairly varied amount of sounds.
Fernando would not mind having all his instruments stirring around, moreover, he delighted will join the "gang". Defender of playing live and to keep in continuous contact with the keys, guitar strings, mics, buttons, knobs… Whatever, not just a boring laptop screen and a dirty mouse pad.
* If you have on your player Air, Giorgio Moroder, Kavinsky, Bibio, M83, Tangerine Dream, Kraftwerk, The Naked and Famous, Gino Soccio, Caribou, Toro Y Moi, Wild Nothing, John Carpenter, Cliff Martinez… you'll like this one.
Press & promo contact: bruno@miracle-miracle.com
Booking contact: jaume@miracle-miracle.com
http://www.miraclemgmt.com/
Released by: Irregular Label 
Release/catalogue number: irregularCD08
Release date: Jul 5, 2012