Brunetto – Sheroine (CD / album)
BRUNETTO "SHEROINE" (irregularcd12) OUT NOW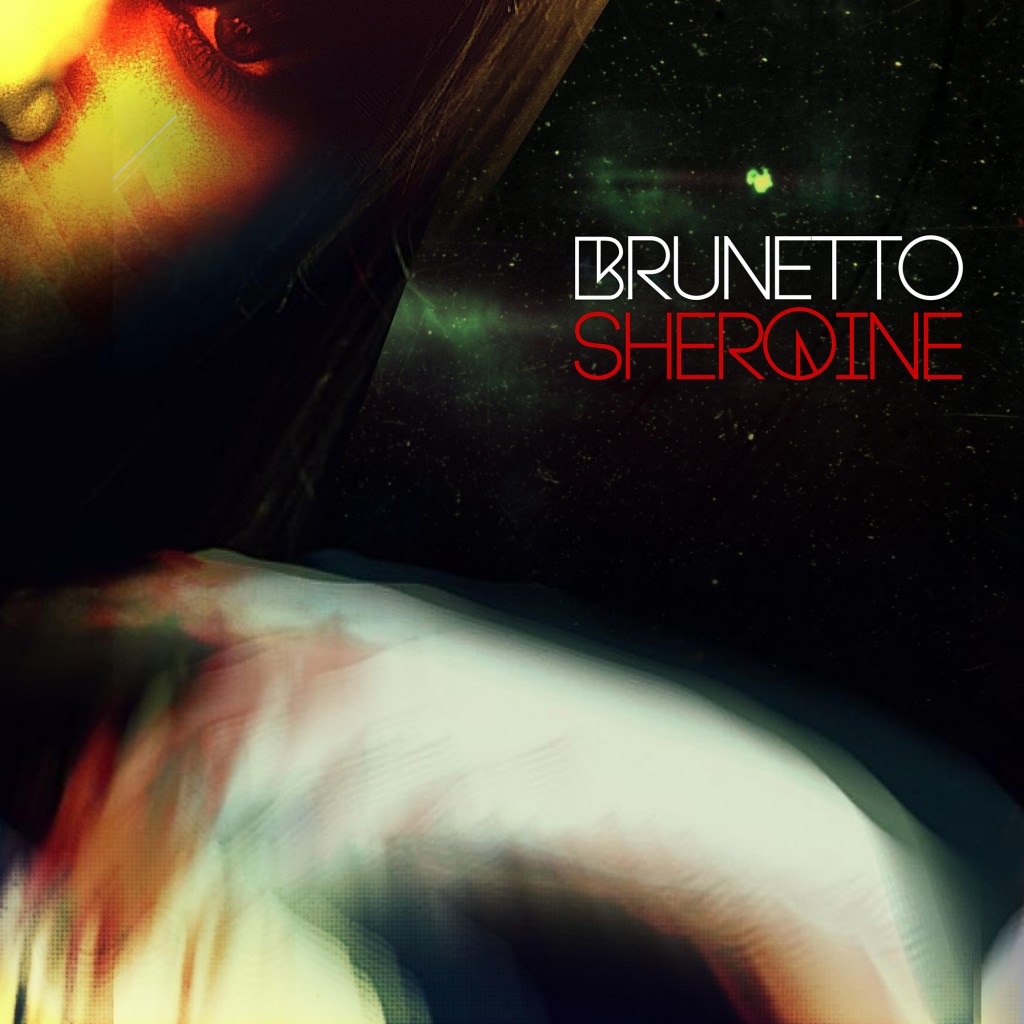 AVAILABLE NOW!
CD: CLICK HERE / CLICAR AQUÍ (MUSICOMING)
DOWNLOAD: ITUNES, JUNO, AMAZON, BEATPORT, BANDCAMP…
Format: CD / Digital
Label: Irregular
Release date: April, 2014
Album tracklist: 1- Evergreen feat. I Am Dive
2- Childs of God
3- Kidult feat Fede Weiss
4- Your Roof Your Rules
5- War Games feat Young Quincy
6- Citizen Zombie
7- Survivor feat New5ense
8- Sheroine
9- Kuklinski feat. ACCD
10- Cinnamon feat Verónica Mey
ENGLISH
As an official term, "Sheroine" does not exist. It's an invention from Barcelona via Seville native, Brunetto, who, inspired by his love of comic books, decided that the heroines of his beloved stories needed an official name. It's an ambiguous compound word, considering its association with the narcotic derived from morphine. None of this is an accident, as "Sheroine" also functions as the title to Brunetto's triumphant return to the long-playing format, with music as suggestive and trance inducing as such a name deserves.
Following his latest efforts -2005's Déjalo Así Bru, 2006's Homeself, and 2008's B+- Brunetto stepped down from the stage to dedicate a couple of years to working as a press agent, collaborator and writer for various publications, agencies and record labels dedicated to promoting a wealth of great artists. Now, he's back in the limelight himself with "Sheroine", out on Irregular label, home to incredible artists like: The Suicide of Western Culture, Boreals, Lasers, The City's Last Noise, Older and Fernando Lagreca.
The álbum / songs:
While recording and composing "Sheroine", Brunetto took inspiration from the genres that have remained close to his heart along his years as a multifaceted artist, hence the constant presence of 90's UK Hard Hop, break beats, ambient pop, IDM, avant-rock and the current wave of hip hop crossovers. He flows through all of these influences seamlessly, to create an album as diverse, danceable and thought-inducing that pays homage to the genres he loves, while bringing mew elements to the table.
The first single off the LP, "Evergreen" is one of those tracks where Brunetto, along with a vocal collaboration from I AM DIVE, isn't afraid to share his history. Putting to good work those broken beats inherited from British labels like Skint, and artists like the Dust Brothers, "Evergreen" ends up as an ethereal but dark cousin to the music of Boards of Canada, NIN and early Death in Vegas. The vocals feature a severity and sonority comparable to Thom York and his Atoms for Peace project.
"Kidult" proves to be an emotional and sonic tour de force equal in nature. For this track, Brunetto pushes us into synthpop/new disco territory, where we can be just as comfortable dancing amidst the smoke and the strobe lights or basking in the sounds with a glass of wine in one hand. It doesn't hurt that the track benefits from main synth lines and vocals provided by Fede Weiss (ex- Anika Sade).
Intertwined between these tracks, you can find the engulfing instrumentals "Your Roof, Your Rules", "Citizen Zombie" (which features some of the eeriest and on-point sound bites) and "Childs of God". Inspired by Brunetto's multiple childhood and adulthood fantasies, they tell cinematic stories that happen to be scored by bass, experimental rock and other film-score like atmospheres. This, too, is no accident, as the musician is always inspired by science fiction, mystery and period dramas, especially those that follow the lives of Vikings or Medieval characters.
More in line with current electronic music trends, we'll also find rap and hip hop (as heard through an electronic musicians ears) tracks, like "Survivor", "War Games" and "Sheroine". The first track, "Survivor", features verses from North American rapper New5ense. The Lancaster, California native holds up his own in a flurry of urban beat hybrids (trap, grime), heavy metal drumming and distortions, which bring a much needed freshness and attitude to the rhythmic elements. "War Games" also turns to the USA for muscle, with Young Quincy practicing his lyrical magic over a bed of arpeggios, EBM, techno and dark wave.
These are risky tasks to take on, but, as you listen further into "Sheroine", you know Brunetto is not one to shy away from the weird. You can hear that tenacity in the track that baptizes the album. Closer to dirty down beat and ambient, it could be said that "Sheroine" is an homage to favourites Boards of Canada and Orbital (specially, the 1991 gem "Satan"), but always interpreted in his own unique style, beauty and, lest we forget, menace.
Our tour of "Sheroine" ends with "Kuklinski" and album closer "Cinnamon", both tracks a look into Brunetto's darker side. The first one, as the name suggests, is dedicated to translating into sound the coldness, passion and obscurity of famed New York mafia hit man, Richard Kuklinski, especially his facet as an exemplary family man despite his line of work. In this track collaborates on vocals ACCD, fellow Sevillian musician and skater, from bands like Double Jack.
"Cinnamon", much like the spice, closes the album with a hard and sweet tone; conflicting sentiments helped by the Nordic sounding electronic beats. Actress Veronica Mey leaves her voice at the mercy of Brunetto's hand, where he chops, pastes, and edits the actress words to fit the minimalist synthpop that is at once sensual and magnetic. "Sheroine" is a slice of elegant, hedonist techno bliss to anchor Brunetto's sound back into our collective consciousness after five years of almost absolute silence.
Adaptation in English: Amaya García / original text in Spanish: Freelastica
ESPAÑOL
"Sheroine" significa el regreso de Brunetto al formato largo. LP al que precedieron los trabajos "Déjalo Así Bru" (2005), "Homeself" (2006) y "B+" (2008). Desde este último han pasado un puñado de años donde ha seguido trabajando en cuerpo y alma por/para la música. Bien en la prensa musical – redactor y colaborador- como en agencias y discográficas como responsable de comunicación, etc.
Su nuevo álbum será publicado en Irregular, uno de los sellos españoles con mayor impacto dentro de la escena de indie y electrónica. Culpa de ello han tenido artistas como The Suicide of Western Culture, Boreals, Lasers, The City's Last Noise, Older o Fernando Lagreca.
"Sheroine" / significado:
Término inventado que hace honor a las heroínas de esos cómics que tanto le gustaron desde niño. Gusta también la ambigüedad de la palabra "heroína" ya que Brunetto considera su música bastante narcótica y sugestiva al igual que la droga derivada de la morfina.
El álbum / canciones:
90's, UK hard hop / broken beats, pop ambient, IDM, avant-rock y hip hop crossover están constantemente en la retina y el corazón de este polifacético artista sevillano (residente desde hace 7 años en Barcelona). En "Sheroine" no faltará ninguno de estos ingredientes.
El 1ºer single en extraerse del álbum cuenta con una colaboración vocal de I AM DIVE. El título de la canción, "Evergreen". Brunetto no esconde sus querencias por los breaks rotos heredados de sellos británicos como Skint o artistas como Dust Brothers, las atmósferas a medio camino entre Boards of Canada, NIN y Death in Vegas (en sus inicios) o por la sonoridad vocal de Thom Yorke en proyectos como Atoms for Peace o Moderat.
Emocional también pero cortante como el hielo resulta "Kidult". En esta ocasión nos empaparemos de synthpop y neo-disco para caminantes. Humo, integridad y algo de luces parpadeantes que nos pondrán a bailar mientras sostenemos una copa de vino. Destaca la melodía principal de sinte y la voz de Fede Weiss (ex-componente de la banda Anika Sade).
De golpe y porrazo repasamos las piezas más instrumentales del disco: "Your Roof, Your Rules", "Citzen Zombie" y "Childs of God". Canciones inspiradas en sus múltiples fantasías de ayer y de hoy. Para el oído, historias que trastean con géneros como el bass, el rock experimental e incluso las atmósferas peliculeras. Otro noble arte que le pirra a Bruno. Tanto las series como las pelis de ciencia ficción, misterio o de época (históricas sobre vikingos o ambientadas en el Medievo sobretodo).
Si continuamos el recorrido hallaremos más pistas de su enganche por el rap y el trip hop. "Survivor", "War Games" y "Sheroine" son las pedradas más claras. En "Survivor" participa con sus versos oscuros el norteamericano New5ense. El de Lancaster (California) –que también fue troceado en "Sheroine"- se enfrenta a un híbrido entre beats urbanos (trap, grime) y baterías de "heavy metal".
Distorsiones, chispas, sombras y mucha actitud en cada uno de los elementos rítmicos. En "War Games" volvemos a encontrarnos con un featuring cuya cuna es USA. Young Quincy incita con su rap sobre un colchón lleno de arpegios, EBM, techno y darkwave. Otro nuevo menú arriesgado. Finalmente "Sheroine", alegato al downbeat sucio y al ambient de dos caras. Podría decirse que es una especie de tributo hacia sus admirados Boards of Canada y Orbital (en especial aquella joya llamada "Satan") pero interpretados con su propia belleza y maldad.
La noche y el día para terminar este repaso de diez canciones: "Kuklinski" y "Cinnamon". En la primera nos toparemos con el cariz más misterioso de Brunetto. No en vano dedicarle un tema al histórico Richard Kuklinski, asesino a sueldo de la mafia neoyorquina tiene lo suyo. Concretamente a su faceta de padre ejemplar a pesar de su "curro". Frialdad, pasión y oscuridad que rozan lo gótico. Ayuda con esta sensación la colaboración vocal de ACCD, músico sevillano de bandas como Doble Jack ¡a la vez que skater! Cierra "Cinnamon" donde con un tono bastante nórdico se nos deja un sabor dulce en los labios. La actriz Verónica Mey presta su voz para ser desmenuzada. Notas de minimalismo, guitarras llenas de aire, synthpop, magnetismo y sexualidad. Techno hedonista y elegante para poner la guinda a un reto tan importante como es regresar tras más de 5 años de reposo casi absoluto.